Resource Guide
---
In addition to the resources listed above, Members and Care Partners are provided with a resource guide titled "The Way Forward: Living with Mild Cognitive Impairment." This resource guide was written primarily for the person diagnosed with MCI, but is also used as a guide for Care Partners. It includes information about the diagnosis, how to manage symptoms, emotional and practical coping strategies, and planning for the future, among other topics.
Download Resource Guide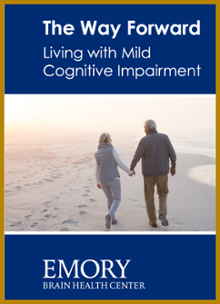 Additional Resources
Also included in the resource guide is a section on additional resources; these resources are listed below. Click on each item to expand for more information.
The Family Caregiver Alliance is a great source of information and resources for Care Partners: the website also has some material for people with the diagnosis in the MCI section.
The Alzheimer's Association website has a very robust section especially for people with memory loss.
Your local Area Agency on Aging (AAA) can tell you about the community-based services you might be eligible for. Find your AAA using the Eldercare Locator.
Mild Cognitive Impairment and Dementia: Definitions, Diagnosis, and Treatment by Glenn E. Smith and Mark W. Bondi; is for people who want a detailed, clinical look at MCI and dementia.
Living Your Best with Early Stage Alzheimer's is a great resource for people with early memory loss and is applicable for people with MCI.
Take Your Oxygen First: Protecting Your Health and Happiness While Caring for a Loved One with Memory Loss by Leeza, Gibbons details how important it is for care partners to practice self-care.
The 36-Hour Day is one of the best-known books about Alzheimer's. Now in its 6th edition, it is best used as a reference guide rather than a book to be read from cover to cover. Some care partners of people with MCI like to have it on hand in case their loved one progresses.
A Caregiver's Guide to Dementia: Using Activities and Other Strategies to Prevent, Reduce, and Manage Behavioral Symptoms by Laura N. Gitlin & Catherine Verrier Piersol. Although it is designed primarily for caregivers of people with dementia, this down-to-earth guide will introduce you to some important caregiving skills.
The Alzheimer's Action Plan: What You Need to Know—and What You Can Do—About Memory Problems, from Prevention to Early Intervention and Care by Doraiswamy M.D., P. Murali, Gwyther M.S.W., Lisa P., Tina Adler. This book includes a lot of practical tips intended to enable caregivers and people with memory loss to live their best possible lives.
Before I Forget: Love, Hope, Help, and Acceptance in Our Fight Against Alzheimer's by B. Smith and Dan Gasby. A memoir.